Genesis Benefit Solutions, Inc.







8498 Brookville Rd, Suite 150 - Indianapolis, IN 46239 - Ph: (317) 524-6350 - Fax (317) 524-6351

Phil Belcher
As owner and primary consultant, Phil, has worked in the insurance industry since 1981. Phil began his career with Aetna, and then worked for many years for a noted third party administrator in the Indianapolis area in the IT, claims, and marketing areas. Phil is a licensed insurance agent, and has a Bachelor's degree in Electrical Engineering Technology and Associate's degree in Biomedical Electronics. With this diverse background, he understands not only the business part of the industry, but also the nuts and bolts of what it takes to make it operate.



Cindy Brown


As Office Manager and Administrative Assistant, Cindy has worked in benefit administration since 1982. Cindy provides support for the eligibility, funding, subrogation, and customer service needs of our clients.
Copyright(C) 2006 Genesis Benefit Solutions, Inc. - Indianapolis, IN

Meet the Staff
Home
Meet the Staff
Plan Consulting
Contact Us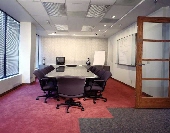 Strategic Partners